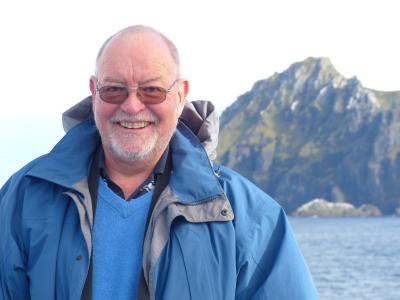 Dr. Harald von Fellenberg
PhD, MSc Physics
Schützenrütistr. 19
CH-8044 Gockhausen
Switzerland



Email: hvf (at) hvf (dot) ch

Motivation
DON'T MISS: my programs in Astronomy, Physics, and other themes here.
I try to write this web page according to the current HTML5 specs - a small exercise, so to speak. I am now in retirement and have given up my professional activities, but I follow the technical and social developments with vivid interest. Internet courses (MOOCs) and lectures at universities are part of my activities.
Top
Security - My Experience
My first contact with the topic of computer security was in 1986, when first reports about computer viruses appeared in the newspapers. I tried then to create a self-replicating malware code, and I was surprised how simple this turned out to be. After that I started to analyze the security mechanisms of the operating system (UNIX System V) from the view point of a nuclear engineer (principle of barriers). From then on, I was always considered a UNIX security expert.
During my time with UBS I authored the OpenLAN Security Concept and was project manager of the Umbrella Project OpenLAN Security. During this time the bank's in-house smartcard solution PERSAUTH was being developed and deployed on some 40'000 workstations. PERSAUTH was used to securely manage logins and passwords for the numerous banking applications.
Here is my sales pitch from that time.
Security technology has degenerated to a pure product selling business over recent years. The relevant questions, namely the meaning of security, the definition of threats and countermeasures to be taken, are not asked anymore. This leads to a false sense of security. Quacksalvers and charlatanes profit from it.
However, if you are interested in real security for your IT infrastructure, I will be happy to write a security concept with you that is up to standards with the leading Swiss banking institution.
I like interesting projects in the realm of C, C++ on Linux, Solaris, FreeBSD and all other UN*X platforms, which the younger generation is not enthusiastic about (Perl, Fortran, Make). Windows and GUI programming are not on my radar.
Top
Nuclear Calculations
My first job after my PhD graduation was with Electrowatt Enginnering in Zurich, where I worked in the realm of nuclear fuel management. For a project about the planned German nuclear waste repository in Gorleben I performed calculations about the composition of nuclear waste (nuclide inventories and their evolution over time). Some years ago some friends and I wrote an important treatise about the complete inventory of nuclear waste in the Federal Republic of Germany (including the new East-German Länder). This work was sponsored by the Federal Office of Radiation Protection, Braunschweig.
Here my sales pitch about my nuclear skills.
As a trained nuclear engineer with long standing experience I perform nuclide inventory calculations for radioactive waste, that are used in the assessment of security relevant questions for planned nuclear waste repositories. I also perform criticality calculations for spent nuclear fuel transport casks. All these calculations are done with internationally recognized and licensed codes.
My Services
Here my offering in the realm of consulting, training, programming.
Top Level Security Consulting
Key note speeches, presentations on upper management level
Security workshops, development of security concepts (middle management level)
Coaching during the realization phase of security concepts
Session chairman on technical congresses
Articles in professional magazines and daily newspapers
Training
UNIX/Linux user training, system management, script programming, C und system programming
Other topics upon request
Programming (Selection)
Porting of large applications on various platforms, architectures, compiler versions (Linux, Solaris, AIX), parallelizing the build process for speedup (make), use of cross compilation techniques, fingerprinting for consistency assurance.
Multithreaded Profiler (Linux 64bit, Solaris)
My Assets
Long experience, large theoretical and practical knowledge in IT and security including cryptography
Didactical aptitude for knowledge transfer, especially when explaining complex matters to managers and laymen. Politicians are excluded.
Vendor independent and neutral, decided advocate of Open Source
Professional Experience
Independent Consultant since 2001
Banks, Financing (3 years at UBS)
IT Manufacturers (4 years Sun Microsystems, 8 years Digital Equipment Corp., 3 years Olivetti)
IT Engineering (3 years Economation)
Nuclear Engineering (6 years Elektrowatt Engineering)
University (university teaching position 2002 - 2007)
Education
1977 PhD University of Zurich, Physics Institute, in Experimental Elementary Particle and Intermediate Energy Physics
1973 MSc in Experimental Physics, University of Zurich
Staying Up-to-date in Retirement
I am interested both in topics from computer science and topics from physics and astrophysics. Therefore the two areas are listed separately. Topics that apply to both areas (like quantum computing) are listed within computer science.
Courses from Physics and Astrophysics
Courses in Computer Science
The Building Blocks of a Quantum Computer: Part 1, TU Delft, DelftX: QTM2x (2018) - on courses.edx.org.
Introduction into four different technologies that are research topics for qubits and later quantum computers, including the required quantum mechanics for spin operations in ket notation. After the course I can better assess the potential of QC.


Addressing Large Hadron Collider Challenges by Machine Learning, National Research University, Higher School of Economics, Moskau, Russland (2018) - on coursera.org.
The Large Hadron Collider (LHC), CERN, Geneva, Switzerland is the largest data generation machine for the time being, it produces terabytes of data every second. The course elucidates modern methods for patteren recognition, particle identification, triggers, and the search for rare decays.
Upon completion of the course I understand both the principles of the Experimental Physics and Machine Learning much better.


Python for Data Science, University of San Diego California (2017), DSE200x
This course uses modern tools like Jupyter notebooks and powerful libraries like numpy, pandas, matplotlib for processing of large datasets. Text and Twitter analysis is also included. Two individual projects have to be made, which are then graded in a peer review.


Using Python for Research, Harvard University (2017) PH526x


HTML5 Part 1: HTML5 Coding Essentials and Best Practices, W3Cx - HTML5.1x (2016)


HTML5 Introduction, W3Cx - HTML5.0x (2016)


Introduction to Computational Thinking and Data Science, Online Kurs The Massachusetts Institute of Technology (2016) MITx - 6.00.2x


Enabling Technologies for Data Science and Analytics: The Internet of Things, Online Kurs der Columbia University, New York (2016) DS 103x


Machine Learning for Data Science and Analytics, Online Kurs der Columbia University, New York (2016) DS 102x


Statistical Thinking for Data Science and Analytics , Online Kurs der Columbia University, New York (2016) DS 101x


Introduction to Computer Science and Programming Using Python, Online Kurs The Massachusetts Institute of Technology (2015) MITx 6.00.1x


Cyberwar, Surveillance and Security, Online Kurs der University of Adelaide (2015) Cyber 101x